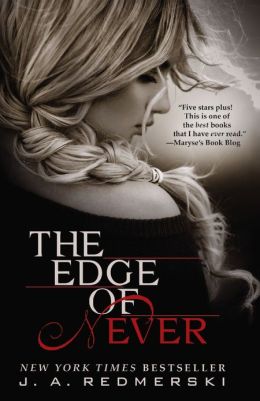 First, let me say that I do not normally read books from the Young Adult genre, usually I am drawn to older protagonists. While I had tried books from this genre before they didn't hold my interest then. Lately though I find that my reading tastes have changed over time and I became interested in trying this genre again.
I have a friend who has been, since last year, introducing me to a new genre, New Adult. This is similar to Young Adult, except that the two lead characters are older (coming of age) and or have either just entered college or have recently completed college. These books can be a bit more steamy/sexy than what you usually find in the Young Adult genre. My friend recently recommended two New Adult books for me to try that turned out to be really good. They are
Easy
by Tammara Webber and
Edge of Never
by J.A. Redmerski. I loved
Edge of Never
very much! I read this book last year of December, so yes I'm late to review it. While my review is concerning
Edge of Never
, I highly recommend readers also give
Easy
a try too. Both books are worth it!
Edge of Never is about two different people from two different worlds, whose fate has brought them to a place where they travel the same path, find each other and fall in love again. Together they find resolution to their hopes and dreams
When I started reading the first few pages from this book, I felt it was kinda slow at first. But then once I got past the part where Camryn first gets on the Greyhound bus, that's when the story really started moving along. I loved how Camryn and Andrew first met. I also loved how they took the time to get to know each other. I don't often see this much in books, it was refreshing. I also liked that they were patient with each other, even on a topic that they were uncomfortable to talk about. They knew that eventually they would talk about their issues and the secrets when they were ready. But they were keeping each other company while they traveled from Texas to New Orleans and that was a lot of fun.
There were many favorite moments in the book. Like the way they spent the moments in the car on their road trip to places unknown. Or how they took that peace and quiet just relaxing outside. I loved that they visit places I'm familiar with and I enjoyed to see them spending times there and having fun together. There was a scene at one point where I thought it was strong, a lot of angst and emotionally satisfying between them. That moment had me in tears. I thought it brought them to a higher level in their relationship. I loved that they visit places I'm familiar with and I enjoyed seeing them spend time there and having fun together. There also a surprise dark secret that I never saw its coming!
Their time spent together was sweet, deeply moving and fun. I loved both Camryn and Andrew. If I dislike anything, then it would be that I wish their story has not ended. I wish for more about them. I felt that Camryn have learned a lot about herself and the friends she have had loved during this journey. Andrew had taught her to expect the unknown but to live life to fullest and enjoy what you have and have fun. I love it when the are together and I thought they were the perfect match for each other.
I thanks my friend for recommend me this book. And I will definitely get my print copy of the book. Also looking forward to
The Edge of Always
, the sequel of
Edge of Never
that is coming out soon (no details yet)! And this book will be mostly in Andre's point of views! YAY :)
Grade: 4 stars
Twenty-year-old Camryn Bennett had always been one to think out-of-the-box, who knew she wanted something more in life than following the same repetitive patterns and growing old with the same repetitive life story. And she thought that her life was going in the right direction until everything fell apart.
Determined not to dwell on the negative and push forward, Camryn is set to move in with her best friend and plans to start a new job. But after an unexpected night at the hottest club in downtown North Carolina, she makes the ultimate decision to leave the only life she's ever known, far behind.
With a purse, a cell phone and a small bag with a few necessities, Camryn, with absolutely no direction or purpose boards a Greyhound bus alone and sets out to find herself. What she finds is a guy named Andrew Parrish, someone not so very different from her and who harbors his own dark secrets. But Camryn swore never to let down her walls again. And she vowed never to fall in love.
But with Andrew, Camryn finds herself doing a lot of things she never thought she'd do. He shows her what it's really like to live out-of-the-box and to give in to her deepest, darkest desires. On their sporadic road-trip he becomes the center of her exciting and daring new life, pulling love and lust and emotion out of her in ways she never imagined possible. But will Andrew's dark secret push them inseparably together, or tear them completely apart?